Lake Oswego High School
Class Of 1971
In Memory
Roger Propst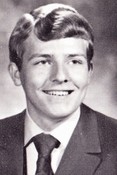 ROGER JAMES PROPST
A private service is planned.

Mr. Propst was born Aug. 24, 1953, in Klamath Falls. He died Sept. 16, 1994, of pulmonary complications of AIDS. He was 41.

An actor, model and investment analyst, Mr. Propst graduated from Lake Oswego High School in 1971. He received a bachelor's degree from the University of Oregon and a master's from New York University.

Survivors are his father, Jack of Woodburn; brother, Rodney of Stayton; and aunt, LaVerne Slusser of Tigard.

Remembrances: Cascade AIDS Project, 620 S.W. Fifth Ave., Suite 300, Portland 97204.
Oregonian, The (Portland, OR) - Monday, September 19, 1994