Lake Oswego High School
Class Of 1971
This is the official site of
Lake Oswego High School
Class of 1971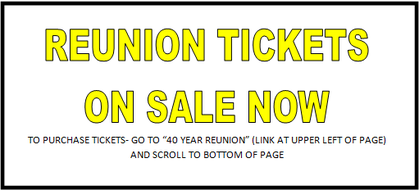 We hope you will join our site and stay in touch.
It's free and your level of privacy is controlled by you.
NOTICE REGARDING USE OF THIS WEBSITE Be respectful and civil to fellow classmates. NO religious, political, sexist, ethnically or racially offensive,conspiracy based, mean or derogatory comments will be tolerated on this site. Any posts of this nature will bedeleted immediately and you will be blocked from the site.
ANNOUNCEMENTS
•

5/31/2021

Hello LOHS Class of 1971 Alumni!

What a crazy year this has been! When we should have been happily planning a fun get together to celebrate our 50 year high school graduation, we've had massive uncertainties regarding Covid-19 and the changing limitations around it.

Now that things are opening up, reunion venues, caterers, airlines, hotels, and car rentals are in huge demand and going fast. Everyone wants to travel to see friends, family and just get out of Dodge. So many people we've heard from in our class already have conflicts with any dates in the goal time period.

So, after much consideration of all of the above, we've made the decision to postpone our 50-year reunion to next year. This will allow us time to plan well and to make this reunion exactly what we want; the venue, food, dates, everything. This new schedule will give all of us classmates a proper heads up, allowing the maximum number of people to attend, which really is the whole point.

Now that we have some time for planning, please consider suggesting ideas or activities you'd like to see incorporated into the celebration and consider joining the planning committee to make it happen.

We know some people will be disappointed and some people will be relieved. These are unprecedented times that call for a flexible approach. Though our official reunion will be next year, this certainly doesn't prevent anyone from getting together to reminisce this year.

Cheers to you all!

The 50th Reunion Committee for the LOHS Class of 1971.

•

04-13-2021

Here's a 50th Reunion update, fellow Lakers:

Out of 400+ LOHS '71 grads, and 210 in this alumni group, 57 of you answered the 50th Reunion Survey. Thank you! The Survey is still open so jump in there and share your thoughts! The opinions (below) were pretty decisive, but due to COVID, we're no closer to definite plans.

No one knows what the COVID restrictions will be in September. On Friday, April 9th, Clackamas County restrictions moved backwards to High Risk, reducing restaurants to 25%/50 person capacity and outdoor venues to 15%/75 person capacity. Unless COVID is fully behind us, we will follow the Oregon Health Authority guidelines which at this time require masks and social distancing at all gatherings.

50th Reunion SURVEY RESULTS

Will you attend a 50th reunion in September 2021?

YES 35 grads/62% NO 3 grads/5% UNDECIDED 19 grads/33%

Do you intend to have had COVID vaccines by mid-August?

YES 52 grads/91% NO 5 grads/9%

Would you prefer a formal/indoor or casual/outdoor main event?

INDOOR 1 grad/2% OUTDOOR 42 grads/79% NO PREF 10 grads/19%

Would you prefer one evening event or a few events over multiple days?

ONE EVE 40 grads/78% MULTI-DAY 11 grads/22%

Would you like to include spouses/significant others or just grads?

SPOUSES 34 grads/67% GRADS 17 grads/33%

Would the cost of the Reunion influence your decision to attend?

YES 4 grads/7% NO 49 grads/93%

COMMENTS leaned to suggestions for casual, outdoors, easy, time to connect; some classmates

suggested waiting until 2022 to (hopefully) alleviate concerns about COVID and not needing masks

as we struggle to recognize each other anyway.

Based on your input and current COVID unknowns, we've decided to wait a while longer before deciding. Rather than putting effort into a big event that may be cancelled, we'll plan to keep it simple, outdoors, and a relaxed time to get together… something that a group of us can put together, if we decide to have a Reunion in September 2021. Thank you to those of you who offered to help organize!

Thanks so much!

Your Reunion Committee volunteers

*** PLEASE FILL OUT OUR SURVEY AT THE LEFT OF THE HOME PAGE IF YOU HAVE NOT DONE SO ALREADY. WE WANT TO HEAR FROM YOU!